Our Veterinarians
When a family member is under the weather or suffering from discomfort, he deserves the attention of a caring, competent physician with the skills to diagnose his ailment and the compassion to treat him with tenderness.
At Minooka Animal Hospital, an expert staff of veterinarian doctors and a skilled team of technicians are here to do just that. Under the directorship of our highly skilled veterinary doctors, your pet is always in good hands. We're ready when your pet needs us.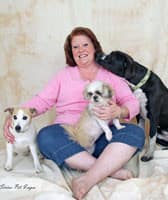 Dr. Therese Simon
Dr. Therese Simon has been with Minooka Animal Hospital since we opened our doors in 1998. Originally from the western suburbs, she went to Colorado State University where she received a B.S. in Zoology and her D.V.M. degree. With a strong interest in dog training and behavior, she enjoys spending her free time attending and teaching dog training classes, as well as behavior/training seminars. Her 4-legged "kids" keep her busy as they compete in agility, dock diving, rally obedience, and canine nose works.
In her other free time she loves spending time with her niece and nephews, and is an avid reader.
Dr. Bundy
Loving mother of 3 children, and owner of a variety of pets, including 15 horses!
Dr. Bundy studied Veterinary Medicine at the University of Illinois. She enjoys spending her time traveling with her girls when they compete in horse shows and high school rodeo.
Dr. Jayma Tourville O'Connor
Jayma Tourville O'Connor, DVM, grew up in southwest Missouri, attending undergraduate college in Springfield, MO before graduating from the University of Missouri College of Veterinary Medicine (Columbia, MO) in 1998. She started with Animal House Ltd. the same year, moving to Minooka Animal Hospital in 2007. She is married to her husband, Jason, and has a cat named, Dunkin – a large black and white longhair who excels at getting into trouble
- Special interests include soft tissue surgery and feline medicine. Outside interests include live theater, crochet and voracious reading.